Many of us don't think about our sewer lines too often. Since these parts of our plumbing systems are hidden from view, deep underground, it can be easy to forget they exist at all — except when something goes wrong.
Like any other part of your plumbing system, your sewer lines can become clogged or damaged over time, which may require an overhaul. If you think this might be the case for you, it can be helpful to learn how to replace a main sewer line. This way, you can know what to anticipate when you call an expert for help.
Let's discuss what to expect from a sewer line replacement in more detail below.
How Does a Sewer System Work?
Sewer systems are designed to be robust and long-lasting. They also have a critical job, as they're responsible for transporting waste from our homes to treatment facilities. Learn more about the parts of your main line and what it looks like beneath your home: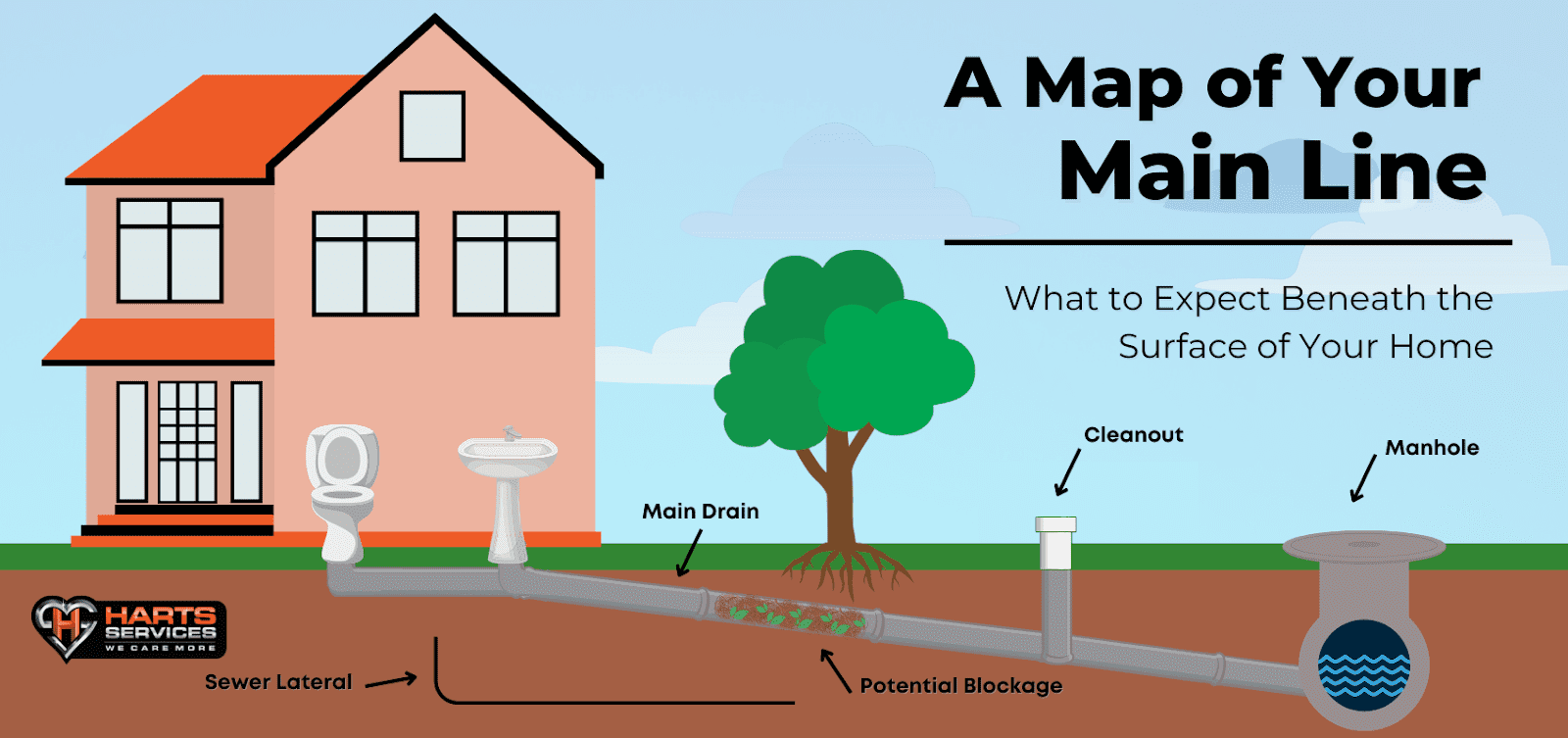 However, just like our water lines, it's an unfortunate truth that our sewer pipes aren't completely indestructible. For example, tree roots can break through sewer lines over an extended period of time, resulting in significant blockages and damage.
What Can You Expect When Replacing Your Sewer Line?
Frequent drain clogs, high water bills, and a strangely soggy yard can all indicate that your sewer line needs to be replaced. Of course, this isn't a small undertaking. You'll need to request help from a professional company that has an extensive understanding of how to replace a main sewer line. This way, you can ensure the job is completed safely and accurately.
Let's go over what to expect from a sewer line replacement.
Performing a Thorough Inspection
As we briefly discussed, sewer pipes can become clogged, damaged, or broken for a wide range of reasons. Because of this, it's crucial that an expert performs a sewer line inspection to grasp the extent of the problem. Although a plumber may know how to replace a main sewer line, they need to have a thorough understanding of the leak or blockage to know which course of action should be taken. That's where sewer inspection cameras come in.
When performing camera inspections in Seattle, WA, and the surrounding area, the contractors at Harts Services use state-of-the-art equipment to pinpoint the source of the leak or clog. Once we know what we're dealing with and the location of the issue, we can devise a plan to fix it.
Replacing Broken Pipes
If you're wondering what to expect from a sewer line replacement, it's essential to know that there are various methods an expert can use to get the job done. As a result, each type of replacement will look a bit different.
For instance, if you're interested in trenchless sewer line services, you may want to consider pipe lining or pipe bursting. During a pipe lining service, a cured-in-place liner is inserted into the damaged section of pipe. Once the liner has been put in the correct location, it's inflated so that it adheres to the walls of the existing pipe. This way, all cracks are fixed without physically overhauling the damaged sewer line. This method can be used on metal, iron, and PVC pipes — among others.
Pipe bursting is another option for your Seattle sewer line replacement that doesn't require excavation. During one of these services, a new pipe is pulled through the old, damaged sewer line. As this new pipe moves through the existing one, the old pipe breaks or "bursts" apart. As a result, the new pipe takes the place of the previous one.
Of course, there may be some instances where excavation may be needed to effectively replace your sewer line. It's important to discuss your options with a reliable and experienced professional to ensure you're getting the best solution for your specific needs.
Schedule Services With Our Seattle Sewer Experts!
Although your sewer system is hidden beneath the ground and out of sight, it may require your attention at some point — such as when the pipes become clogged or damaged. Hopefully, you now better understand what to expect from a sewer line replacement.
At Harts Services, you can count on us to provide you with dependable sewer line repair or replacement services in Seattle, WA, or the surrounding area. Our highly trained and experienced team knows how to replace a main sewer line to fit your needs.
Do you think you may need a residential sewer repair or installation? Don't wait for the problem to get worse with time. Contact us today to schedule an appointment!